Rayls is a woman pioneer in the mining game. Crazy times in the old days, racing like cut snakes to the loader and competing to see how many loads you get over in "your" tip head at the dump. 360 degree spinouts on wet ramps, getting 3 loads to get it right or f..k off to another pit! Becoming a trainer, and finally learning how to hold up her hole… for the blast crew as a driller. Good times, fast paced and lots of laughs reminiscing with an old mining mate over a few beers on her farm in Tropical Nth Queensland.
SHOW NOTES & Links: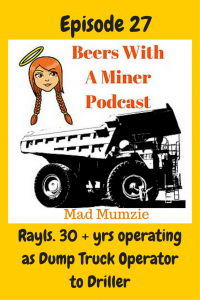 Wintermoon Music Festival
Episode 24 Jullia Hartman Accountant for Miners
Episode 16 Part 1 Kirsty O'Callaghan
Episode 23 Part 2 Kirsty O'Callaghan
Episode 19 Brendan Maher CEO RuOk?
 To listen to more episodes head to:
If you enjoy the show please head to www.madmumzie.com/itunes to see how to subscribe and leave a rating and review. That way the show's message can be heard by more people.
You can also find the podcast here if you're not an iTunes fan!
Thanks to my "Girlfriend" Cookie for the tunes!
Until next week, stay safe, be real, be special and have fun for we only live once.
Cheers,
Mad Mumzie