Australia Day Celebrations
This holiday is very special in our country, and also celebrated throughout the world by Aussies living, working or holidaying overseas. It is a day when we recognise Australians for their contributions, and accept new people as Australians, with citizenship ceremonies held nationally.
Wherever you are, whatever you're doing, do you show Aussie pride?
That is how I grew up anyway, and still continue this tradition with friends, family and fellow crew members if I am at work.
So how can you celebrate when working? The secret is to plan ahead.
This goes for all holidays and special occasions.
One Australia Day, after night shift, we headed to the local oval for a traditional Australia Day game of cricket. Operators vs the workshop. A healthy rivalry usually exists between the two.
Operators want it fixed, the work shop blame us for breaking it!
I remember I had only recently joined the crew, and they didn't really know- yet- just how full on I can be when it comes to such matters. I was very proud to rock up in an Aussie singlet, fake tattoos on my face and ready to play.
I was the only one who actually bothered to dress up!
Their excuse was they hadn't planned ahead, and did not bring anything from home. I decided then and there. "I'm going to have to educate them I think!!"
What a great morning. The cricket match was followed by snags and bacon on the barbeque for breakfast, washed down with a couple of mid strength beers. Add to that quite a few laughs, and it made for a lovely Australia Day, even if it was only for the morning, because we all had to head off to bed. I slept well that day!
The next Australia Day we were on day shift, actually in the pit. The beers had to wait, but what to do at work…?
Dress up of course! I had the stick on tattoos, Aussie hat, and a flag for my truck. But what about the rest of them?
By now my crew knew me well, and actually expected a little bit of fun would be had.
Of course I had planned ahead and had heaps of tattoos to share around. The funniest thing was getting other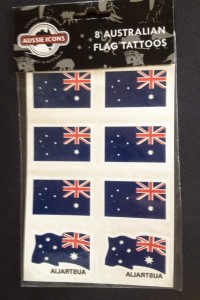 members of my crew to put them on. Most were grown men, so-called tough miners, dabbing their hands, arms and faces with just the right amount of water for correct adhesion.
"Don't be so rough or you will smudge it!"
By the end of that Australia Day you could see who I had been around at crib times. My proudest moment was when a big Maori fella said yep I'll have one… He is one hell of a dude, if he could do it, anyone could, and they did.
This year I have been nominated in the Community Group Award for our local council's Australia Day Awards. It came as a huge surprise, and an absolute honour to be nominated. I certainly do not expect to win anything, but to be recognised is very humbling.
I share this because you will now understand my dilemma of what to wear!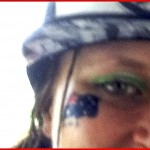 It is a cocktail party, so I am guessing the Aussie singlet, thongs, hat and tattoos on my face are a no-no? As I write this I am awaiting a phone call on a new position in the mines, so with a bit of luck I will be at work!
The stock of Aussie tattoos, flag and hat are all ready to go.
However you choose to celebrate this day, I hope you embrace it in whatever traditions you have, or may just be starting. As our life, family and friends grow, change and evolve over the years, it is important to reflect at times like this how lucky we are to be living in Australia.
Yes, times have been tough with new issues here at home, and across the world, but these seem to be bringing our communities, and national pride together to form yet another, stronger version of what it is to be Australian.
I am releasing this blog post a week before Australia Day, so you can plan ahead, no excuses!
Mad Mumzie xx