Big T/OC/ or Tony….
Sadly he is now one of our angels watching over us all.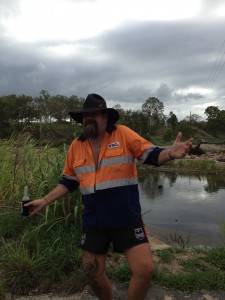 "He was a joker, a clown, a big kid – he was an amazing guy."
Lovable, helpful, great boss..all round good Aussie bloke.
He was also my daughter's soulmate.
There was an age difference, but that did not matter to them. He was a country guy who had his Toyota ute, tinny, harley and cowboy hat. She loved doof doof music and Brittney Spears, holdens, home and away and her mini foxies.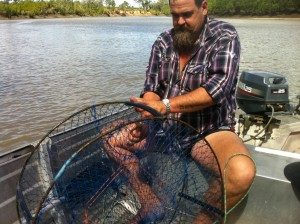 Read more: A day in the tinny with Tony and Dad
He always wanted a (real) dog. They waited a long time for a special puppy to come from his best mate's dogs. He called her Toya, after Toyota.
She was to sleep outside, go on the back of the Ute and get a kick in the guts every now and again if she played up. Sounds terrible in hindsight, but I'm sure it was said like an old bush saying!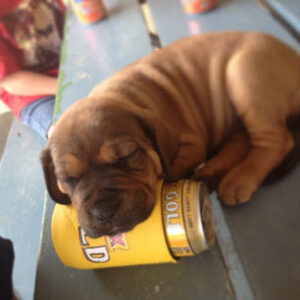 When Toya was a puppy and first arrived home, Tony went out to work for a week. By the time he came back from shift, she was sleeping on the bed with my daughter and her two little mini foxie's!
He said he knew that was going to happen. Not much changed, lucky they had a king sized bed because they all slept on it!
Tony was happy in spirit, but not in heart as it turned out.
The signs were all there. He used to sweat a lot and tire quite easily. They went to the doctor who asked him to make a promise?
"You have this lovely young lady to live for now, promise me, and her you will go to the cardiologist next break."
Sadly he did not make that appointment.
He did not come home next break.
At the end of a long night shift his heart gave up, on the pit floor, at the new Central Qld coal mine, Daunia.
I cannot imagine what it was like for his crew. Who found him? Try to wake him up, perform CPR, call the emergency, wait for help to arrive, find out he had died, watch his body being removed after hours laying dormant waiting for paperwork and procedures. Close the mine…for how long?
The police came to my house looking for my daughter, Tony's next of kin, but she was at her sisters on a holiday. I had to ring and tell her the horrendous news. That was the hardest thing I have ever had to do.
She just kept saying:
"What do you mean? what do you mean? what do you mean?"
That saying still haunts me. She fainted on the floor in front of her sister and son, who still did not know what had happened. I had to repeat the news. Heart wrenching for all concerned.
Tony's work were great. They sent representatives to speak about one of their own supervisors at his funeral. I believe they also paid for drinks at the wake as they met his family and shared stories of what a great guy he truly was.  They also offered us counselling if we needed and were in contact regularly, especially in the initial stages.
The funeral was down Brisbane way and many of his workmates could not make it. They wanted to get together and have their own memorial service at the Kuttabul pub, one of his favourites watering holes.
I was honoured to see the love and genuine heartbreak of a great work mate, and boss taken too soon. The care and concern for my daughter from the people that day was amazing. I thank you all so much xxx.
Not long after Tony passed away Toya was bitten by a brown snake.
All my daughter could say was
"She can't die too!"
Thanks to the awesome team at the Valley Vet in Walkerston, a weeks stay, and $6,000 plus later (lucky I took a VR!) she survived, and became a pin up dog for what the vet can do when money is not an option. She HAD to live,  it was kind of like keeping Tony alive somehow.
As time passed my daughter contacted the local paper to help promote the Heart Foundation who were having their yearly awareness campaign. The message is loud and clear peeps!
Go to the bloody doctors you blokes!! You're not invincible, just ask Big T..
Oh you can't can you? because he had a massive heart attack at the bottom of the pit at 5am at the end of night shift.
You can read her story here: Grieving partner highlights importance of heart foundation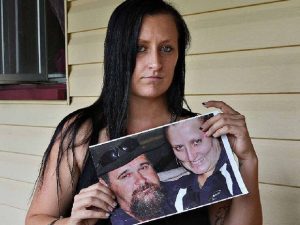 His mates rallied around us, and each other.
On this 3rd anniversary 4th June 2016 they are doing their first memorial ride.
I share our story with you I guess to help us in our healing and to remember our good mate, but to encourage you, your mate, your Dad, hubby, boyfriend, bro, son, uncle, pop, boss to get checked out.
This has changed at least one of Tony's mates. He is now fit and healthy and looking forward to living a long and full life. That is what we all want right?
Get a little bit healthier, drink a bit less, be more active and go to the bloody doctor when things aren't right and for your check ups. Goes for us too ladies!
I would also like to add for everyone to learn First Aid and how to do effective CPR as this too may help save lives especially in those initial moments.
He is one of our angels now. Sadly the number is growing, there is quite a team gathering. He was a great partner to my daughter and grandson and was already a huge part of our family. When I walk home from The Castle where they lived, the light always flashes, Hello Tony xxx
The clock stopped at 5 in The Castle kitchen the day he died. New batteries would not make it go. My daughter threw it in the bin, she was cranky at the clock, at 5 oclock, at the world…but it was my clock! There are still clock issues in that room . Hello Tony xxx
If you have lost loved ones it is the little things that help you remember them. You can believe in the woo woo side, or not. But look for the ways to see them, remember them, talk about them.
Have a  memorial, light a candle, get the old photos out, remember the good times, have a cry and a laugh. Think of the things you did together and what you discovered and kept hold of in your life now.
It is hard when life throws shit at you, and this was one of those times for me and my family, along with everyone else Tony's life touched. How do we continue? I wrote a blog post about this just after I was starting to come out of the haze…….
Perhaps the words on the above post can help you too?
Tomorrow will be the third anniversary. I will be in a pit in a coal mine trying to heed my own words and not be too broken.
I know my daughter will be trying too, but also remembering and honouring a great bloke who blessed so many of us with his presence in a life cut too short.
In the coming weeks the Beers With A Miner Podcast will be talking about how we can get through shitty times in our lives and the lives of those around us. There is plenty of help available to us miners out there. We will take a look within ourselves. Special guests who are doing fantastic work will share some golden nuggets to help us all live long, healthy and happy lives.
Stay safe my peeps, stay healthy, and please come home each break to your special loved ones, and don't be so proud and stubborn. Go to the doctor when your feeling a bit off, please. xxx
Cheers,
Mad Mumzie