Part 2 with author Kirsty O'Callaghan. 50 shades of away! relationships and parenting, special needs kids, expected and unexpected events and life after FIFO. Many tips and stories to help us in life, not just when Separated By Work. Part 1 was episode 16 if you have not listened to that yet.
SHOW NOTES & Links: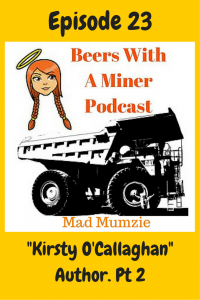 16: Part 1: Kirsty's episode…Separated By Work
13: Jodie Davis Life Coach and Coal Miner 
08: Hard Hat Mentor (MM Sister)
22: CW Operator and cool chick
To listen to more episodes head to:
If you enjoy the show please head to www.madmumzie.com/itunes to see how to subscribe and leave a rating and review. That way the show's message can be heard by more people.
You can also find the podcast here if you're not an iTunes fan!
Thanks to my "Girlfriend" Cookie for the tunes!
Until next week, stay safe, be real, be special and have fun for we only live once.
Cheers,
Mad Mumzie