The news of a coal miner killed in a local mine in Central Qld prompted this shorter episode from Mad Mumzie. The guy that died was also a local in her town. Now more than ever we need to watch out for each other, and ask "RuOK?" Also it really hits home how life and death mining can be. Stay safe at work and watch out for each other.
SHOW NOTES & Links: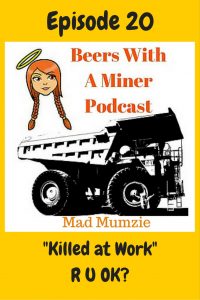 Miner Killed in Central Qld. Australian Mining
Ep 10IP Big T. Lessons learned. Our Tony
There is help available:
A Miner's Legacy
A foundation established and run by Safety Consultants and family members who have lost loved ones in mining accidents
Check out plenty of resources on their website.
http://www.aminerslegacy.com.au/
A Miner's Legacy is committed to helping you and your family through this difficult time.  We can put you in touch with the right people, in your area, who will guide and support you through this journey. As soon as you need us, we can help you with the following:
emotional support and counselling
funeral arrangements
organisation of travel and accommodation for your immediate family
financial and legal assistance
household help and maintenance.
RuOk?
As we learned in episode 19 with RUOk? CEO Brendan Maher, we can all start a conversation to help those around us. In tough times like this 4 little letters could go along way. "RuOk?"
Check out their website here : "RuOk?"
Heaps of resources to help spread the message, learn how to start a conversation and much much more.
To listen to more episodes head to:
If you enjoy the show please head to www.madmumzie.com/itunes to see how to subscribe and leave a rating and review. That way the show's message can be heard by more people.
You can also find the podcast here if you're not an iTunes fan!
Thanks to my "Girlfriend" Cookie for the tunes!
Until next week, stay safe, be real, be special and have fun for we only live once.
Cheers,
Mad Mumzie