Lisa Mirtsopolous from Dump Truck Discovery chats about her journey into mining, and why an earthquake has now changed everything! Listen in as we talk about training, driving the biggest dump trucks in the world. Lisa has been Named in the "100 Global Inspirational Women in Mining" She is also a mentor and inspiration for me, Mad Mumzie. I first came across Lisa a few years ago when I was looking into writing a book about getting a job in the mines. Lisa's book and web site Dump Truck Discovery showed up in my searches over and over again.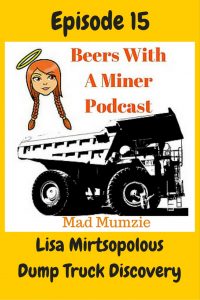 SHOW NOTES & Links:
Dump Truck Discovery Facebook page
Lisa's blog post about surviving Nepal Earthquake
Mad Mumzie's guest blog. Are you cut out to be a miner?
Nepal earthquake April 25 2015
On Line teachers I highly recommend for creating online incomes:
Smart Passive Income Pat Flynn
Jeremy and Jason from Internet Business Mastery …..they taught Pat Flynn, and me 🙂
***Update*** June 2017
Lisa wanted me to let you know that Dump Truck Discovery is temporarily closed down while she is pursuing her next exciting project about travel. You can check out her new site here:
Lisa is still supporting Mad Mumzie and referring people here for any mining related questions she receives.
I am sure like me, you wish Lisa all the best as she is following her dreams. It's amazing what a life changing event such as an earthquake can change everything. Go for it girlfriend! xxx
MM
To listen to more episodes head to:
If you enjoy the show please head to www.madmumzie.com/itunes to see how to subscribe and leave a rating and review. That way the show's message can be heard by more people.
You can also find the podcast here if you're not an iTunes fan!
Thanks to my "Girlfriend" Cookie for the tunes!
Until next week, stay safe, be real, be special and have fun for we only live once.
Cheers,
Mad Mumzie