It's cold and flu season and Mad Mumzie is crook. What to do? Being a contractor means no work no pay. When do you decide bugger the money I need to stay home? Recorded in the donga after being frustrated because there were no lozenges in town! A short Audio blog/Mad Mumzie Musing looking into sickies and how it affects the crew too.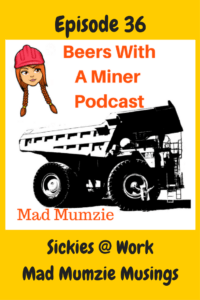 Links from the Episode:
 Contract Labour Hire Inquiry Qld Government
Swine Flu Outbreak in Australia
To listen to more episodes head to:
If you enjoy the show please head to www.madmumzie.com/itunes to see how to subscribe and leave a rating and review. That way the show's message can be heard by more people.
You can also find the podcast here if you're not an iTunes fan!
Thanks to my "Girlfriend" Cookie for the tunes!
Until next week, stay safe, be real, be special and have fun for we only live once.